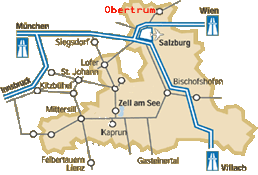 History
The families Lucian have been farmers, ranchers and innkeepers for generations. Since 2003 we run a cattle 'ranch' in the north of "Flachgau" county. There was no farm to take over, instead the whole enterprise started from scratch on a piece of grassland.

After passing vocational training for agriculture with excellence, the first animals were acquired in 2004.
The first task was to fence the grassland. A hay feeder and suitable shelter in the woods followed during the first year.
The following year we added the large barn, box stables for the horses, a modern slaughterhouse, and an aging cooler, in which the beef is hung to develop its superior dry-aged flavor.

As late as 2009, construction of the farmhouse started as well.
The farmers Hugo and Eva Lucian are committed to sustainable agriculture and preserving the ecosystem. Consequently, they chose to raise certified organic cattle conforming to the strict requirements of the AMA.

We raise exclusively grass-fed cattle and do not use concentrate fodder or additives.